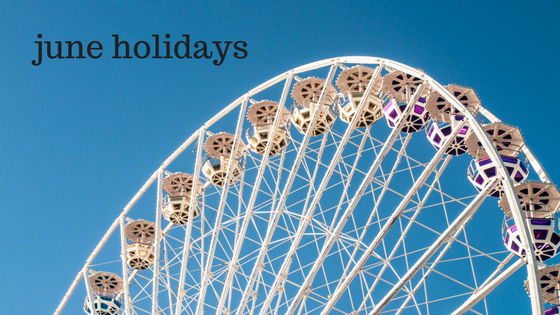 In this post, the Sunset Palms Blog is featuring a few of our favorite June holidays. We are celebrating National Fresh Fruit and Vegetables Month, Rose Month, National Doughnut Day (June 2nd), and Camera Day (June 29th) this month. We hope that you get the chance to celebrate a holiday or two!
National Fresh Fruit and Vegetables Month
Head to your local farmers market for National Fresh Fruit and Vegetables Month. The Yellow Green Farmers Market is open all year long. It offers everything from fruits, vegetables, and organic chicken to coffee, tea, and salsa! Get everything you need — including chocolates, soups, and baked goods — at the farmers market!
Rose Month
Rose Month is the perfect time to visit the Miami Beach Botanical Garden. The Miami Beach Botanical Garden is "an intimate 2.6 acre Garden with a very big mission! We call ourselves an urban oasis in the middle of the glitz and neon of South Beach, a place where locals and visitors can come and enjoy the numerous cultural and artistic programs for all ages offered year round."
There's no better way to celebrate Rose Month than with a fresh bouquet of roses. Yelp has a guide to the Best 10 Florists in Hollywood, FL.
National Doughnut Day (June 2nd)
Celebrate National Doughnut Day with The Dandee Donut Factory, Mojo Donuts, or Krispy Kreme Doughnuts on June 2nd. Krispy Kreme often offers promotions on National Doughnut Day. Check their website for details.
Try your hand at making your own donuts for National Doughnut Day. We love these old fashioned chocolate cake donuts from American Heritage Cooking. Dunk these delicious donuts in a cup of black coffee or in a steaming cup of hot chocolate.
Camera Day (June 29th)
Take a picture or two on Camera Day. National Geographic has plenty of great advice for photographers. Learn everything from how to take a picture with your camera phone to how to photograph inside of a cave by using their tips and tricks. You can find their photo guides here.
What's your favorite June holiday? Let us know in the comments. Thanks for reading our post!