Blog Home
Summer Water Games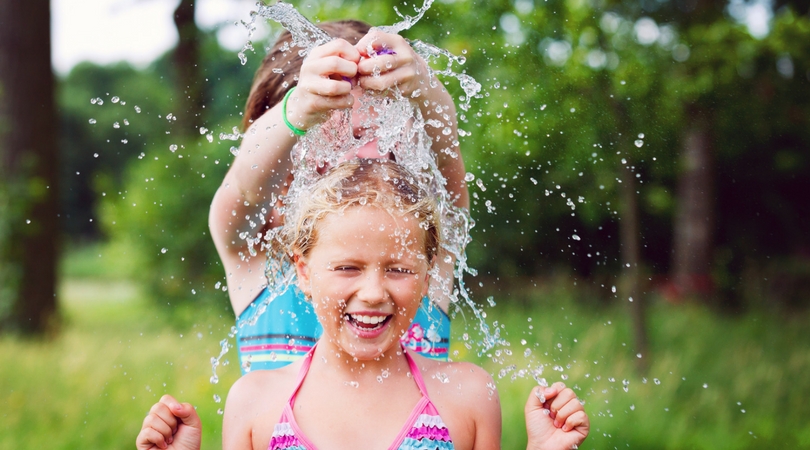 It's July and that might mean you're going to need some water games to help cool you off. Sunset Palms Blog brings you some suggested games to play this month here in Hollywood, FL. These games are great for all ages and perfect for a family reunion, weekend afternoon activity, or compliment to a summer BBQ with friends at our apartment community. We hope you get to try these games out this month!
DIY Slip and Slide
Slip and slides are great to have for a family reunion for everyone to try out. We have a great DIY project for the perfect slip and slide. To make this, you'll need 3M Plastic Roll, 8 pool noodles, gorilla double sided tape, a sprinkler, a 2x4, and metal stakes. The noodles serve as bumpers on the edges of the slide and a good way to keep the water on the plastic. The 2x4 will help to keep the slide from ripping or getting pulled up as people run and slide. Stay safe and have a good time!
Water Balloon Fight
Water balloon fights are a classic water game and a great addition to any summer BBQ with friends. Fill up dozens of water balloons and you're all set! You can play dodgeball, have a plain ol' fight, or even have a water balloon toss or relay. Water balloons are cheap and create fun for hours.
Shark and Minnows
Thankfully Sunset Palms has a pool to help you stay cool this summer. Sharks and minnows is a classic pool game that's fun for all ages. This is essentially a game of tag. The game starts with a single shark who lurks in the middle (or one end) of the pool. The other swimmers are the minnows and begin the game at the other end of the pool. To begin the game, the shark yells, "Minnows in!" and the minnows dive or jump into the pool and try to swim to the other side without getting tagged by the shark. However, every minnow who does get tagged joins the shark's team and helps tag other minnows. The last minnow to become tagged becomes the first shark the next time around.
Sponge Ball Dodgeball
These sponge balls are a fun alternative to using water balloons for dodgeball or a water fight. It also doesn't require cleanup or time to fill up lots of balloons. To make these sponge balls, you'll need lots of sponges, scissors, and rubber bands. Cut the sponges into 4 long strips. Gather 8 strips and tie them together using a rubber band. It's simple and they become a game you can keep for years to come.
What are your favorite summer water games? Let us know in the comments. Thanks for reading!